---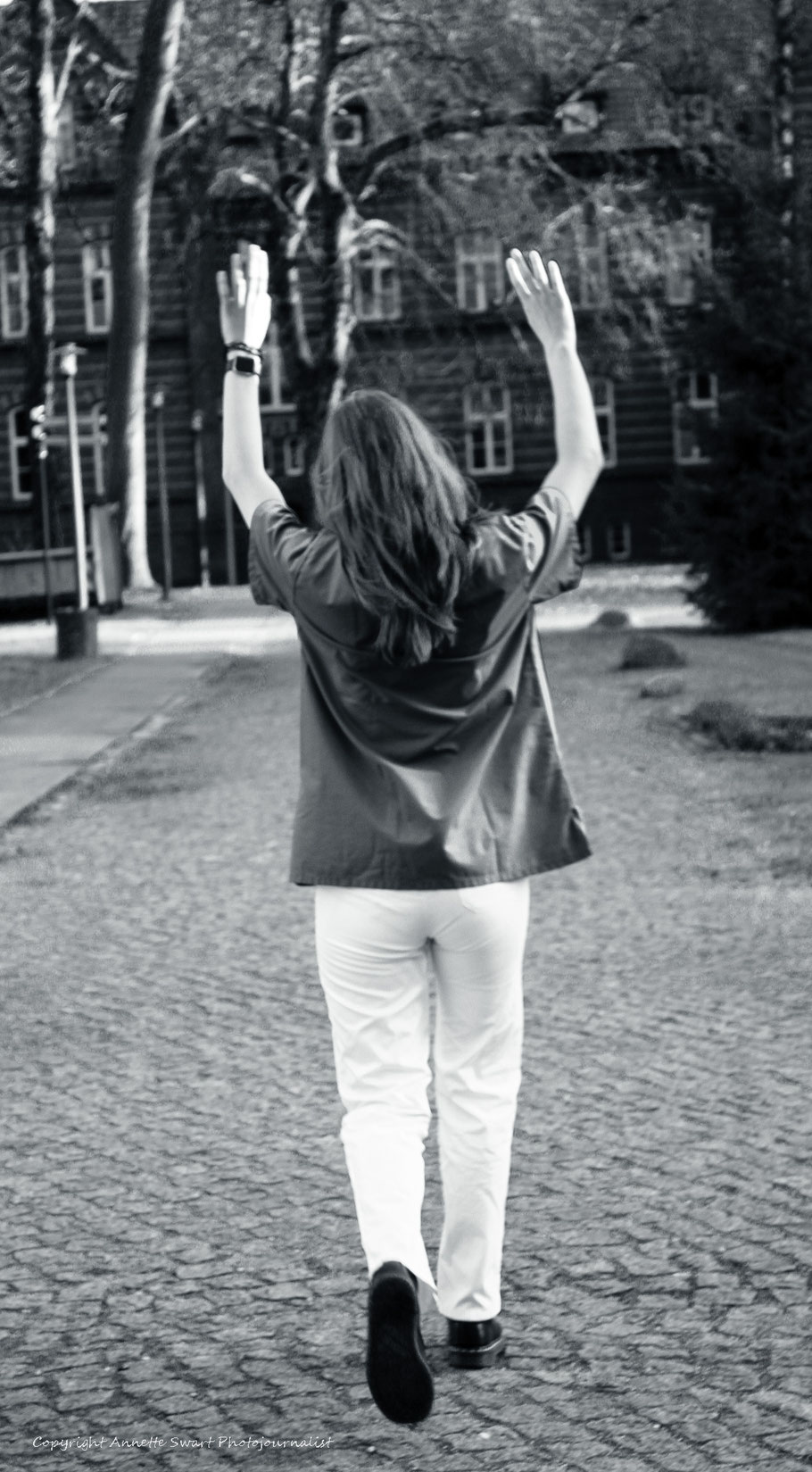 ---
Mutig sein und sprechen, aussprechen, das sagen, was nicht unbedingt gehört werden will. Aber gesagt werden muss. Tabus brechen, Grenzen überschreiten ohne übergriffig zu sein. Es geht nicht um die Grenzen der anderen, es geht um Ungesagtes, Ungehörtes, weit Entferntes in das Hier und Jetzt zu bringen. Weniger um zu konfrontieren, nein, es geht dem Unsagbaren eine Stimme zu geben. Das sind Momente, die nicht terminiert, nicht vorhergesagt oder gar festgelegt werden können. Es ist eben der besondere Augenblick, der es ermöglicht zu sagen, was gesagt werden will. 
Eine Frau sitzt mit mir an einem Tisch und erzählt offen von ihrem Burnout. Ein schleichender Prozess bis sie nicht mehr auf die Straße gehen kann, ohne in Angst- und Panikattaken zu geraten. Ich höre zu, natürlich tue ich das. Es ist eben der einzigartige Moment, den du sofort erkennst. Du hälst inne und hörst zu. Du spürst, es ist ein kurzes Zeitfenster, ein ganz kleiner Augenblick, in dem sie sich von innen nach außen kehren kann. Es stellt sich nicht die Frage, wer sie ist und warum sie das jetzt ausgerechnet mir erzählt. Es geschieht einfach. Die vielseitigen Aufgaben im Leben einer Frau, das dazugehörende Management Beruf, Kinder, Ehe, Familie usw. zu organisieren. Zusammenbruch. Wie millionenfach schon gehört, gelesen, immer wieder dasselbe Spiel. Spiel? 
Eine zweite Frau, die ebenfalls mit am Tisch sitzt, leise zugehört hat, nickend zustimmte, spürt den besonderen Moment der Vertrautheit. Eine Vertrautheit, die mir erlaubt zu reden. Ich darf sprechen, ich kann sprechen. Ich kann erzählen, und sie drückt die Tränen weg. Der Kloß in ihrem Hals braucht ein paar Sekunden, bis er ihre Sprache wieder freigibt. Wir anderen schauen sie geduldig und liebevoll an und warten. Ja, sagt sie. Wie das so ist mit der Familie. Familie ist ihr Stichwort. Was ist Familie fragt sie, wenn deine eigene Mutter dir nicht geglaubt hat? Mehrmals sagte ich ihr, dass ihr Mann, mein Stiefvater, mich nicht in Ruhe lässt. Sie beschwichtigt sofort, nein, vergewaltigt hat er mich nicht, aber an Stellen... Und bricht ab. Ihre Stimme ist weg. Sie kann für den Moment nicht weiterreden und wir  beenden ihren Satz für sie. Ja, sie nickt. Und spricht für sich weiter. Meine Mutter meinte, ich würde die Familie mit meinem Gerede zerstören wollen, sie hat mir nicht geglaubt. 
Ja, auch das schon millionenfach gelesen, gehört. Missbrauchte Frauen. Und dann die Fragen dazu. Ja, warum hast du denn ihn nicht angezeigt, wie kann es denn sein, dass deine eigene Mutter, ja, wie soll denn? Die eigene Fassungslosigkeit wird in Fragen umgesetzt, eine normale Reaktion. Die Betroffene holt uns Zuhörende ab, damit wir erstmal verstehen können, wo sie gerade steht. Und wir sind wieder beisammen. Braucht es eine Vergewaltigung um dann als Missbrauchte zu gelten? Nein, aber Beweise, denn das Gesagte allein genügt nicht. Nicht Beweis genug. Aber hier wird klar, dass es weniger der Beweise wegen nicht zur Anklage kam, sondern weil der Rückhalt wegbrach. Mit dem Gesagten und damit auch Erlebtem alleine da zu stehen, alle im Dorf schauen dich nicht mehr an. Denn die durch das Dorf getriebene Kuh ist nicht der Täter, sondern das Opfer. Dann willst du nur noch weg. 
So sitzen wir Frauen, zufällig zusammengewürfelt, an einem Tisch und zwei von uns haben zwei anderen zugehört.
Das Unsagbare, das Ungesagte, das niemand hören will, ist gesagt. 
---
Be courageous and speak out, say what doesn´t necessarily want to be heard. But it has to be said. Breaking taboos, crossing borders without being overbearing. It´s not about the boundaries of others, it´s about bringing the unsaid, the unheard, the far away into the here and now. Less to confront, no, it´s about giving a voice to the unspeakable. These are moments that cannot be scheduled, predicted or even determined. It´s that special moment that makes it possible to say what needs to be said.
A woman sits at a table with me and talks openly about her burnout. A gradual process until she can no longer go out on the street without having anxiety and panic attacks. I listen, of course I do. It´s the unique moment that you recognize immediately. You stop and listen. You feel there´s a short window of time, a very small moment, in which she can turn inside out.
The question does not arise as to who she is and why she is now telling me of all things. It just happens. Organizing the diverse tasks in a woman´s life, the associated mangement of work, children, marriage, family a.s.o. Collapse. As heard and read millions of times, the same game over and over again. Game?
A second woman, who is also sitting at the table, listening quietly, nodding in agreement, feels the special moment of intimacy. A familiarity that allows me to talk. I can speak. I can tell and she chokes back tears. The lump in her throat takes a few seconds to free her speech again. The rest of us looks at her patiently and lovingly and waits. Yes, she says. How it is with family. Family is her keyword. What is family she asks, when your own mother didn´t believe you? I told her several times that her husband, my stepfather, would not leave me alone. She immediately reassures me, no, he didn´t rape me, but touched in places... And breaks off. Her voice is gone. She cannot go on for the moment and we finish her sentence for her. Yes, she nods. And speaks for herself. My mother said I would want to destroy the family with my talk, she didn´t believe me.
Yes, that also has been read and heard a million times. Abused women. And then the question is about it. So, why didn´t you report him? How can it be that your own mother? How should it?
Your own bewilderment is translated into questions, a normal reaction. The person concerned picks us up as listerners so that we can first understand where she is at right now. And we are together again. 
Does it take rape to be considered abuse? No, but evidence, because the spoken word alone is not enough. Not proof enough.
But here it becomes clear that the indictment was not so much because of the evidence, but because the support broke away. Standing alone with what has been said and thus also experienced, everyone in the village no longer looks at you. Because the cow driven through the village is not the prepetrator but the victim. Then you just want to leave.
So we women, randomly thrown together, sit at a table and two of us have been listening to two others.
The unspeakable, the unsaid, which nobody wants to hear, has been said.
---